Hall Of Fame
Peter Metelnick | 2003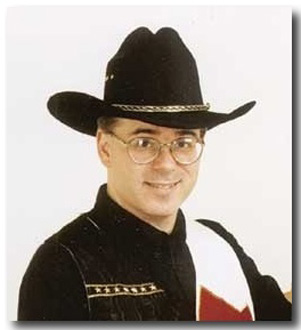 Peter Metelnick is the quiet man of Line dancing. Very much the independent-minded choreographer, one of the very few able to produce high quality dances to suit the needs of the modern Line dance market.
He first came to prominence in the late 1990s and has had a series of floor-filling dance hits since then. His recent output has been so impressive that it was no surprise when he received two Crystal Boot Awards at the Southport Theatre in February. His induction into the Linedancer magazine Hall of Fame is more than deserved. Romantasy, Brokenheartsville, Irresistible, And They Danced, Everywhere, Body In Motion, Derailed, Feet Don't Fail Me Now and Heartbreak Express are just some of the many great dances choreographed by Peter. And we shouldn't forget the major contribution made by his partner Alison Biggs, who co-choreographed several of these hits with him.
The couple live together in St. Albans, Hertfordshire and, although he's been a permanent resident in the UK for several years, Peter fulfils many engagements to teach at events in such diverse locations as Vienna, Berlin, Mexico and the United States. His dances are of truly international appeal and he describes choreography as his passion. What is more, he is very modest about his achievements and just wants to go on writing material that keeps the Line dance community, with its varied musical tastes, as happy as ever.